projects » arrow studio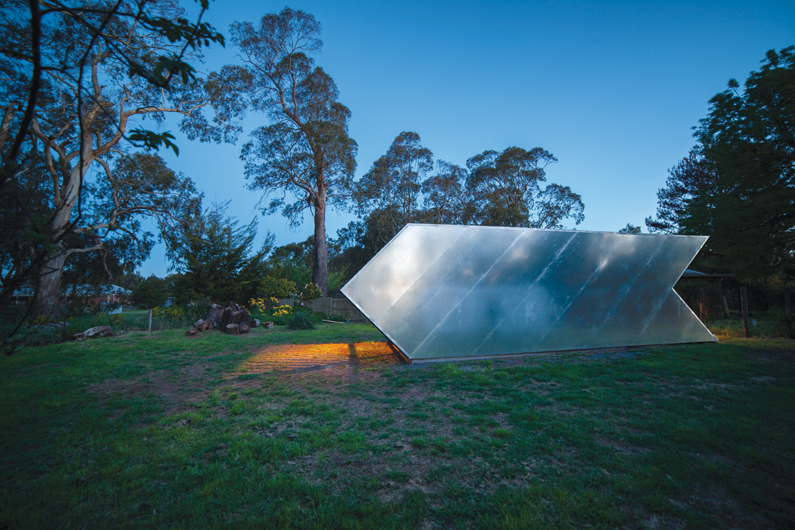 A few years ago Mr White retired to the countryside near Hanging Rock. His brief was to build a small gallery in the back yard, facing the bush, where he could hang his late wife's paintings. The gallery would also be used as a study/reading room. For security reasons, as well as to maximize hanging space, we were asked to have minimal windows, and for those windows to be framed in a way that intruders could not break in. This became the generator of the shape, which hides the windows behind the screened areas at each end (arrow head, or rotated gables, as the builders referred to them).
The budget, not much more than an off-the-shelf garden shed with slab, was of prime importance, and could not be exceeded. All walls are ply, which braces the structure and replaces plasterboard on the inside. The galvanised sheets overlapped diagonally form a second skin which helps insulate and protects the ply from the harsh conditions. The roof is an off-the-shelf, all-in-one insulated roofing system (incorporating roofing, insulation and ceiling).
The space between the gallery and the house (an old brick veneer) has become a protected outdoor entertaining area, while on the other side the gallery forms a backdrop for BBQ's with a bush setting. At night the room acts as a giant garden light / lantern, illuminating the bush garden.
The studio was built in 10 days.
2014 Commendation for Colorbond Award for Steel Architecture – RAIA Awards