projects » judo house
Lead Architects: Toby Reed + Anna Nervegna
Project location: Richmond, Melbourne, Victoria, Australia
Completion Year: 2021
Gross Built Area: 350sqm
Project Team: Toby Reed, Anna Nervegna, Bruno Rabl
Builder: Grenville
Photo credits: John Gollings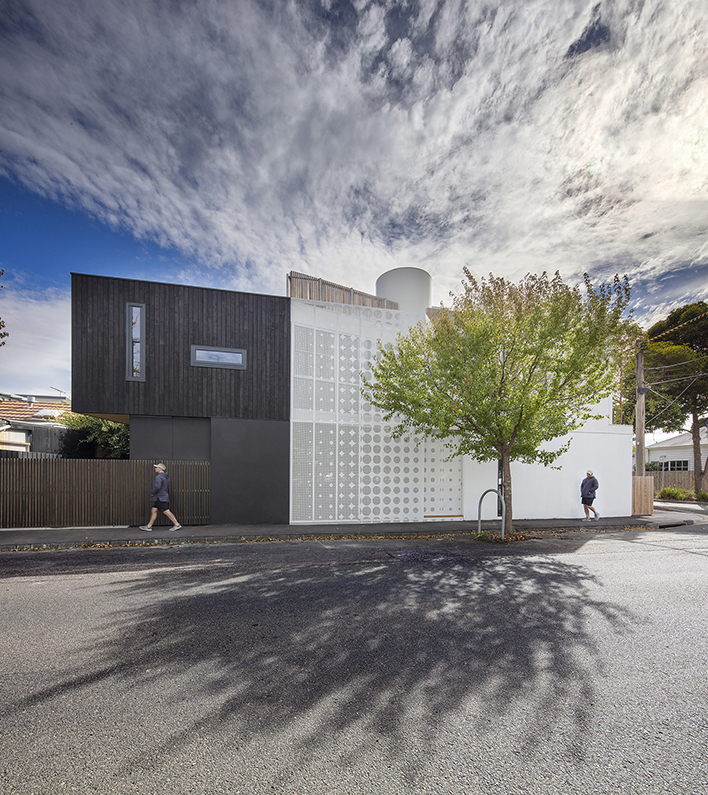 The Judo House was designed for a couple and their young family. Both clients are Judo enthusiasts, the wife being a former Olympic Judo competitor. Besides the usual requirements of a family house they wanted a space where they could teach the children Judo. Therefore, the basement became a multiuse space with martial arts as its core activity. Circular floor windows on the ground floor allow light and views to the Judo practice below.
We used the concept of the screen, with its long architectural history, as well as its modern manifestations in everyday life, as a generator of architectural space and surface for this small inner-city site. Besides the size of the site there were also multiple town planning restrictions to negotiate.
As the site is a narrow 6m wide, triangular slices were cut into the ground (with traversable mesh over) to allow light into the basement. This allows for a Zen-like atmosphere for the underground Judo practice. On the ground floor a triangular light court is cut out of the rectangular cube on the side wall facing the street. It is secured by a perforated metal screen. The screen allows privacy during the daytime with dynamic views out to the street. The perforated patterns frame the street view with a dot-screen like surface filter, vaguely reminiscent of the static of a television screen. At night when the interior lights up to the street, the half-tone dot-screen mediates the image.
Due to the narrow inner-city site, the maximizing of space and the illusion of space was of utmost importance. In the main space, circular graphics in the concrete floor and plywood ceiling create spatial zones without walls which interact with the natural perspective of the space. The dark black circular wall seat, which also acts as a cubby for young children, pushes the space sideways into the boundary.
On the first floor to the north is another perforated metal screen which shades and gives privacy to the master bedroom. It has a perforated black hole blurring which slides to reveal a perfect view or a filtered view depending on the client's mood. A roof garden provides city views.