projects » tea room
The Tea Room was a chance to explore the same design methodology and siting concept as the Arrow Studio but in an urban context. The site is an old factory located in the back streets of Brunswick, an inner suburb of Melbourne, which our client and his friends use to work on their collection of motorbikes and old cars. Like most old factories it has no views, whereas the roof has panoramic views of the city. In order to relieve the claustrophobia we were asked to build a tea room on the roof to provide a place to relax and capitalise on these views.
We proposed a parallelogram, in a similar vein to the chevron of the Arrow, sitting on the roof and cantilevering over the front car park to make the most of the sun and the views. To provide the extra structural support that a big piece of space-junk would need on an old factory wall we designed a 'V' column, a passing nod to both the V8 and to Viollet-le-Duc. Two thin rods sit on each side for stability which on occasion changes the reading to an 'M'.
Inside, the stair and lift core, as well as the walls are covered in coloured polycarbonate (Danpalon). The polished slab works as a thermal mass retaining the suns heat along with the hyper-insulated walls and roof. In the winter the solar PV panels on the roof provide power to heat the slab.
The cantilevered form of the Tea Room looms out from the building, punching through the brick parapet at the front of the old factory, like a parallelogram spaceship crash-landed on the roof, hovering over the graffiti covered industrial landscape.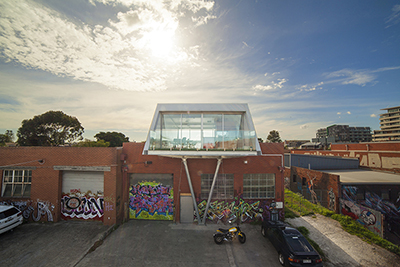 Project Completion 2015
Nervegna Reed + pH Architects
Photos Tom Nervegna-Reed, Toby Reed