projects » biochar field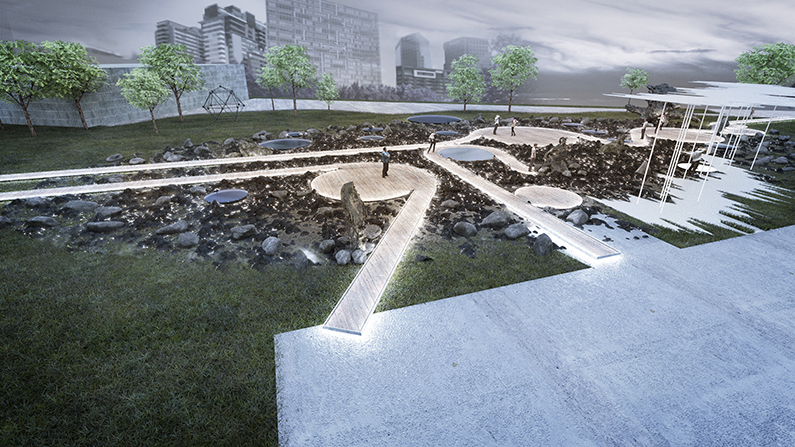 How might we explore the effects of carbon emissions in our world while offering a positive transformation for our environment through designing a sculpture garden?
We dream of a future utopia however if we stand back and look at the modern world in which we live - we are already here. The utopia we live in, the contemporary city, is a utopia that is unfortunately fueled by carbon in which every architectural space and form is an imprint of what Elisa Iturbe calls 'carbon modernity'. We live in a carbon utopia.
Our proposal for the 2021 NGV Architecture Commission seeks to create a public experience which allows us to reflect on this situation. The architectural landscape is a series of walkways and platforms hovering over a field of 'carbon', in this case biochar.
The 'carbon' in this landscape is biochar, a recycled waste product which helps regenerate the landscape while reducing greenhouse emissions. Biochar was first used by indigenous Australians to nurture and replenish the soil, increase crop yields and lower rates of fertiliser use.
The Biochar Field is a diagram of the contemporary city, with rocks, mirrors, and miniature pond habitats reflecting the precious vegetation and sky, surrounded by a field of biochar which nurtures the environment rather than destroying it. Meandering pathways and circular nodes which serve as viewing platforms. Scattered with mirrors which reflect the natural gardens and sky in the sculpture garden. A reflective lightweight canopy sits near the entry to the garden which is scaled-up NASA graph of global warming.
The dual reading of the work as architectural scale diagram of the carbon fuelled city, and as expanded field of regenerative landscape could promote, through experience, a dialogue about the role of carbon in our everyday city.