projects » power street loop competition
The Power Street Loop accommodates the Power Street exit ramp from the Domain Tunnel in Southbank. As part of the CityLink Road corridor, the site is not able to be accessed by the general public. However, it is highly visible from neighbouring buildings and pedestrian paths (bordered by Sturt Street and part of the Melbourne Arts Precinct. The Kata Tjuta System explores building as a ecological system and sculpture event. The building form derived from the typological outcrop of the Australian landscape - Olgas (Kata Tjuta) which tanks rainfall and offers it back to the environment through temporal devices including- waterfalls, mist streams.
The Kata Tjuta​; a non-habitable building serves as a functional form and landmark including the urban landscape on the freeway site. The building would be fitted with solar panels that would capture solar energy to light the building at night and power the watering systems. This solar power would also be fed back into the grid in addition to the water storage tanks for rain water collection. The urban form through filtering water while creating a new habitat for fauna. The scheme is self-sufficient and offers a sculpture which reintroduces energy back into the grid and water back into the landscape creating a sustainable urban sculpture and land care project on the site.
2015 Award for Best Unbuilt Project – Architeam Awards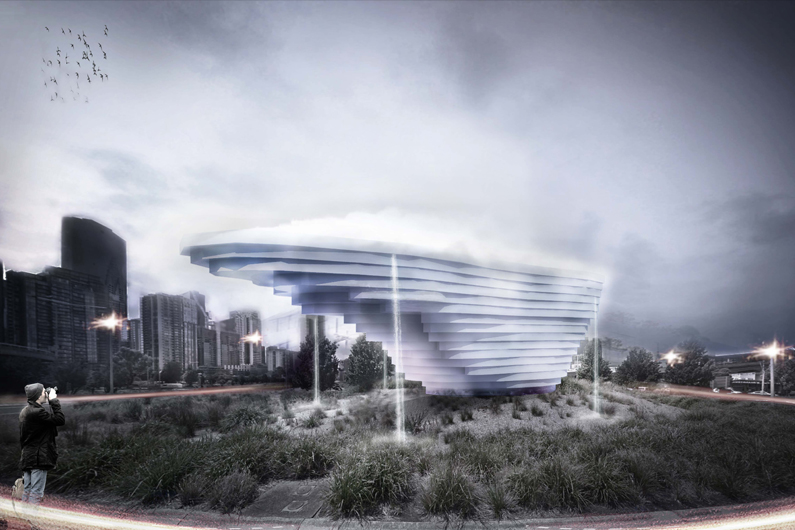 Power Street Loop Competition
South Bank Melbourne Victoria
Kata Tjuta System

Client: CityLink Victoria and AECOM

Design Architect: Anna Nervegna

Team: Anna Nervegna, Lim Chong Shien + Toby Reed